Research Kits: Science in Action!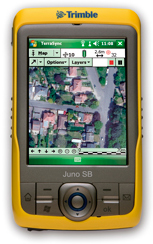 An Iowa Math and Science Education Partnership (IMSEP) grant has made it possible for Iowa's students to use cutting-edge Global Positioning/Geographic Information System hand held computers (Trimble Juno SB).
Are you interested in documenting climate change, recording flooding effects, monitoring groundwater, characterizing landslides, making maps, or investigating a local city, county, or state park?
Are you a teacher or naturalist that is interested in integrating GPS/GIS technology and scientific/inquiry learning techniques in and OUTSIDE your classroom?

Geographic Information System (GIS) Kits
As an Iowa k-12 educator or naturalist you may check out a GIS Kit for a class project or field trip. Your collected GIS data may be uploaded and accessed by your class and if you choose all of Iowa's teachers and students. (on the IGEIN server) more explanation. Large kit: 10 GPS/GIS units, instructions, FAQ, project examples, & chargers Medium kit: 5 GPS/GIS units, instructions, FAQ, project examples, & chargers
IGEIN GIS guides and videos
Guides
ARC PAD User Guide - PDF
Videos
Part 1 This is really just a test of explaining some of the basic steps within ArcMap. There are more to come!!!